Bali Dolphin Tour is one of the popular Bali Full Day Tour Packages to encounter directly with amazing dolphins in the morning time using traditional boat and enjoy the sunrise view in the beach. Never missed the opportunity to see directly the dolphin jumping around in the sea from the boat and take picture as many you like. This Bali Dolphin Tour also combines with visiting tourism places in the north after see the dolphins. Our Balinese Tour driver will pick you up at lobby hotel in the morning time at 03.30 am and then directly heading to the Lovina Beach, after arrive at lovina beach we will rent traditional boat or called it Jukung and we will go in the middle of the sea, no need to worry the sailor is professional and know the exactly where the best spot the dolphin will shown up. Enjoy see the dolphin jumping around beside your boat heading to middle of the sea. Then after finish watching dolphin we will visit the Git Git Waterfall, in this lace you can see the beautiful waterfall with clean water and amazing twin waterfalls make the view more beautiful. Afterwards the Bali Dolphin Tour continue to visit the Ulun Danu Temple is amazing floating temple with great view of beratan lake, is good place for taking picture here with the background the temple. This Bali Dolphin Tour can be customized to just visiting dolphin only or with the sightseeing trip, contact us if you just want to visit dolphins only without visit any sightseeing places. Our Bali Tour Driver will give the best services from the heart to make you happy during the trip.
Points of Interest will be visit during the Bali Dolphin Tour :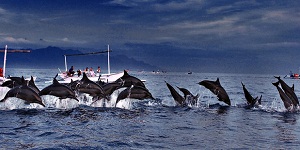 Lovina Beach for Watching Dolphins
Lovina Beach is one of the best beach to see watching dolphin in the sea. One of the favorite fascinations in Lovina Beach is dolphin watching tour. Hundreds of dolphins can be seen in the morning time around 1 km offshore
Git Git Waterfalls
Gitgit Waterfall is one of the famous tourist destinations in Bali which is located in Gitgit countryside. It is set at height land about 300 meters above sea level. On 1975, this waterfall is opened as tourist destinations, since opened may tourist come to visit this waterfalls.
Ulun Danu Beratan Temple
The name of Ulun Danu Beratan Temple is taken from the lake where the temple is built at Beratan Lake. The name of Beratan Lake is inseparable with the Beratan Mount as Deity and Goddess as fertility source, prosperity to keep the prosperity in life and society life.
Bali Dolphin Tour Itinerary :
03.30 – Pick Up at Hotel
06.00 – Visit Lovina Beach for Watching Dolphin
09.30 – Visit Gitgit Waterfall
11.30 – Visit Bedugul (Ulun Danu Temple and Lake Beratan)
12.30 – Enjoy Lunch
13.30 – Lunch finish and Drop Back to hotel
15.00 – Arrive at hotel
Bali Dolphin Tour Price :
We have two price you can choose which is the Standard Tours Price and All Include Tours Price
Standar Tours Price :
IDR. 600.000/car (1 – 6 person)
IDR. 900.000/minibus (1 – 12 person)
Inclusion : Private Car + Petrol + English Speaking Driver
Remarks : Entrance Fee, Rent traditional boat to see dolphin and Lunch is not include in the price
Or
All Include Tours Price :
IDR. 625.000/person (All Include Tours Price is Quote per person for Minimum Booking 2 Person)
Inclusion : Private Car + English Speaking Driver + Petrol + Entrance Fee + Rent Traditional Boat to see Dolphins + Lunch Indonesian Food + Mineral Water
Checking...
Ouch! There was a server error.
Retry »
Sending message...
Inquiry Form
Fill in the form below for inquiry the tour or activity, we will reply soon as possible after received the inquiry based on office hours 08.00 - 17.00 pm, for fast response please call or whatsapp +6281558449505 (24 hours)